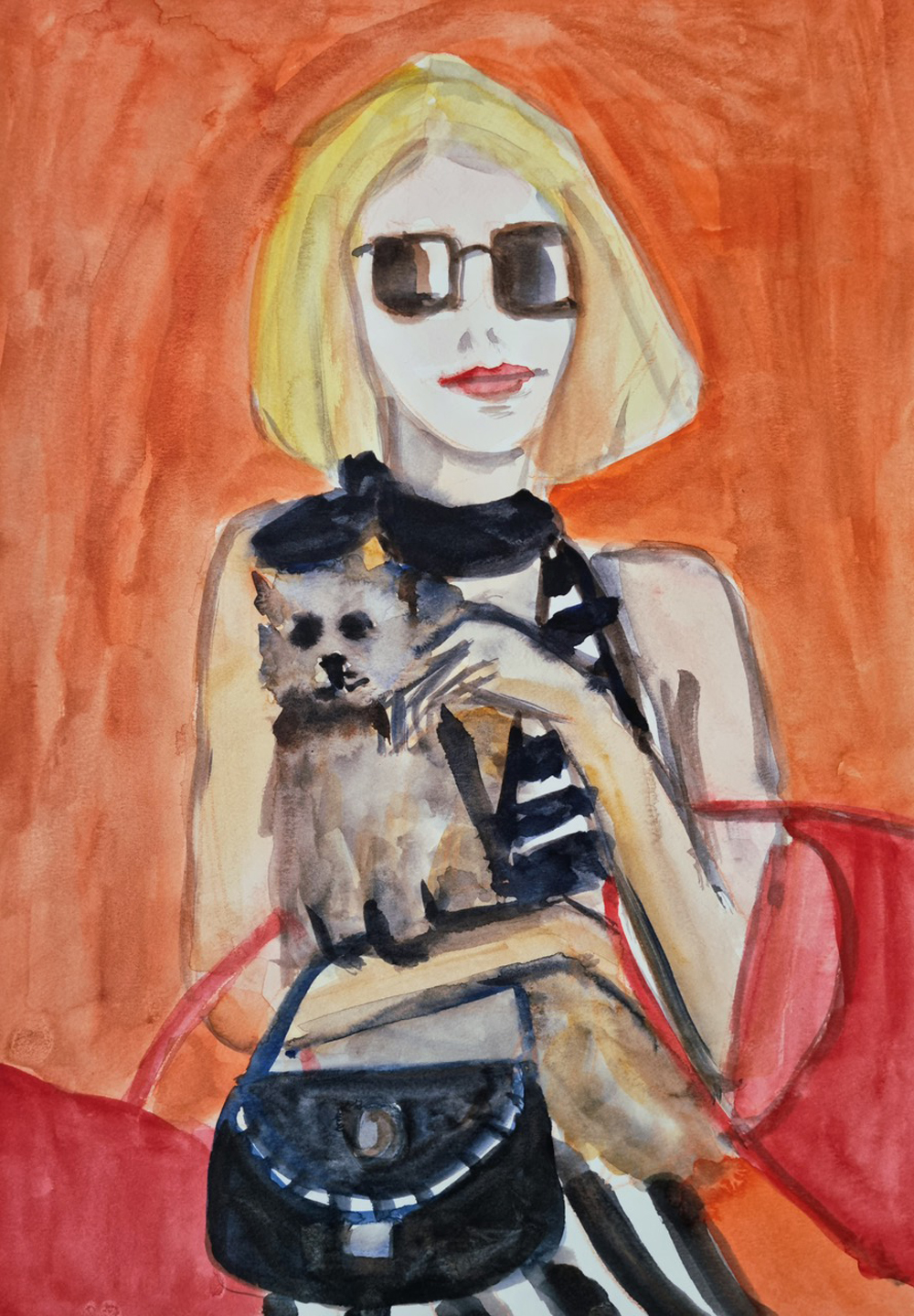 Ms Sunglasses and her Shopping Bags and Dog
Watercolour on Paper 30 x 40 cm 2019
My Paris Hilton portraits are an ironic look at the self portrayal of a woman.  I am confused.  How, after Feminism, can a woman present herself in such a way?  Is Paris knowingly being ironic?  Does she know what she is doing?  To a certain extent she absolutely does.  She is a living, breathing Barbie Doll, with a pink house and chihuahuas and a pink car.  She eats what every child would love to eat: ice cream, jello, cheerios and 'sprinkles'. 
Paris Hilton is not unlike Marie Antoinette in the portrayal of wealth and privilege, with Social Media as her tool, she desires to provoke envy in her onlookers of whatever sex.  We know what happened to Marie Antoinette however. 
I am interested in how women have been depicted in portraiture from Tudor paintings, Van Dyk's Stuart portraits and up to the present day.  Women were painted as extravagant objects of desire by male artists primarily for the male gaze.  Their 'costumes' were merely decorative enticements to lust, marriage and status. 
Contemporary women artists such as Cindy Sherman, Paula Rego and Alice Neel turned their eyes onto themselves and others and by doing so shone a light onto the ironies and misfitting perception of the male gaze.
Social Media has replaced the hand held pocket miniature that used to be secreted away for a private viewing, now we find ourselves at both ends of the telescope, viewing and being viewed.
Sunglasses are rarely depicted in 'serious' portraiture.  We are blocked, to use the language of social media, from seeing too deeply into the soul that may or may not have been sold to the devil.  Paris Hilton is therefore my perfect subject to flag up all these issues.
I paint vivid and sickly colours of pink and red and 'gooey' paint as if it is ice cream.  I want to entice and I want to repulse my viewer.  I want you to wonder why I would want to paint Paris Hilton in an accomplished, traditional and painterly way. I want to tip up the expectations of portraiture.